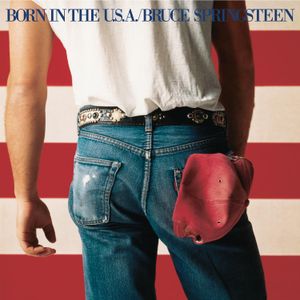 It was the fall of 1984. Bruce Springsteen's "Born In The USA" had been released that summer and it was already well on its way to becoming a humongous, smash record. (It sold 15 million copies that year, making it the top selling album of the year, eventually selling over 30 million copies worldwide.) "Dancing In The Dark" was all over the radio and MTV. 
I've written previously that, when I was a kid, Bruce Springsteen was my favorite songwriter and a big inspiration for me as a young musician. I'd heard that his live concerts were legendary so when the radio announced that Springsteen and the E-Street Band would be coming to the Vancouver Coliseum, I knew that I absolutely had to be there. 
But there was a small problem. Tickets were going on sale immediately and were only being sold in person at the Coliseum. No phone orders. (And of course, no internet in 1984.) I was just starting my sophomore year at the University of British Columbia, which happened to be on the complete opposite side of town from the Coliseum. Miles away. It literally couldn't have been farther away and still be in the same city. And to make things worse, there was a bus strike on in Vancouver, and I didn't have a car. What could I do? I started walking and hitch-hiking. 
By the time I got there, a couple of hours later, there was already a reallllllly long line of people snaking its way through the fairgrounds where the Coliseum is located, and it was immediately clear that the vast majority of the people waiting in the queue were going to be out of luck. As I got closer, I saw Marvin, a guy from my high school graduating class, standing in line, wearing the uniform of our small town: jean jacket with brown corduroy collar, blue jeans and black boots. He was a good guy, Marvin, but he wasn't gonna get any tickets. 
I'm not proud of what I did next, but on the other hand I can't say I have any regrets about it either. I worked my way into the back side of a some bushes close to the box office, crawled through the underbrush until I came out the other side – where I was now a whole lot closer to the front of the line. 
Despite limiting tickets to 4 per person, by the time I reached the ticket window the show was almost sold out. I bought 4 tickets in the nose bleeds with cash I'd earned playing in a top 40 band that summer. A few minutes later, they closed the box office - the show was sold out. But I had tickets and I was going to see the Boss! 
It was an epic 4-hour show, the kind that Springsteen had become famous for. The encore itself lasted for 90 minutes, in itself as long as many other concerts. Every single person in the building was on their feet the entire time, dancing, singing, rejoicing. 
Memory flashes: the roar of the crowd as the lights went down and the band took the stage. A bone shaking backbeat from mighty Max Weinberg to kick things off followed by the anthemic guitar riff from "Born In The USA'. Chilling cover of Jimmy Cliff's "Trapped". Bruce sliding across the stage on his knees to finish Tenth Avenue Freezeout in an embrace with Clarence. Nils Lofgren on a trampoline attempting a flip during his guitar solo. Unsuccessfully! Ending with the Detroit Medley, Travelling Band, Twist and Shout, and, even though it was just October, finally wrapping up with "Santa Claus Is Coming To Town". 
After that concert I had the very romantic idea that I was going to follow the tour around and see as many shows as I could. I'd heard about fans who'd seen hundreds of shows. I was a teenager and didn't have a whole lot of cash, but I'd read "On The Road", so I thought I'd take a page from Kerouac and hitch-hike between cities, sleep rough to save money and see how far I could go. 
A day or two later I found myself in Tacoma, Washington where the E-Street Band was scheduled to do a couple of back-to-back shows. After taking care to hide my backpack in the brush beneath a freeway overpass, I went down the hill to the Tacoma Dome to haggle with the scalpers. 
It was another great show, the set list much the same as Vancouver, but it felt a lot different being there alone, a kid with not much travel experience in a strange city and another country. Even surrounded by 15,000 people, I was aware of how alone I was. 
After another 4-hour show I made my way back to the overpass and found that I'd hidden my backpack a little too well. The bushes I'd noted as landmarks looked remarkably similar to all the other bushes now that it was pitch black. I searched for half an hour becoming more and more panicky until, with relief, I finally found my stuff. I crawled into my sleeping bag, shoved a black toque like the one Jack Nicholson wore in "One Flew Over The Cuckoo's Nest" on my head, and, there on the hill, looking down on the Tacoma Dome, to the sound of trucks and cars hauling ass down the I5, I fell asleep.    
I awoke the next morning to some unwelcome news: scrolling across the electronic billboard in front of the Tacoma Dome was the announcement that the next show had been postponed. (I found out later that Bruce had come down food poisoning.) So I had some time to kill. I bummed around Tacoma for a bit, took the ferry to Vashon Island, where I sprung for a youth hostel as the nights were getting colder and colder. 
The rescheduled date arrived and while getting my ticket from the scalpers, I overheard them talking about the next tour date. There were quite a few professional scalpers following the tour as well, and I think they were making pretty good bank. Next up on the itinerary was Oakland and word among the scalpers was that a lot of them were giving that one a pass. I got the strong impression that Oakland (at that time) wasn't the safest place. 
I decided that was enough for me. I was running out of money and I'd already missed a week of school. I was tired, I was lonely. I loved the music, but I missed my baby. So with a silent apology to Jack Kerouac, I spent the rest of my money on a Greyhound Bus ticket and beat it back to Vancouver. Maybe the road wasn't for me.