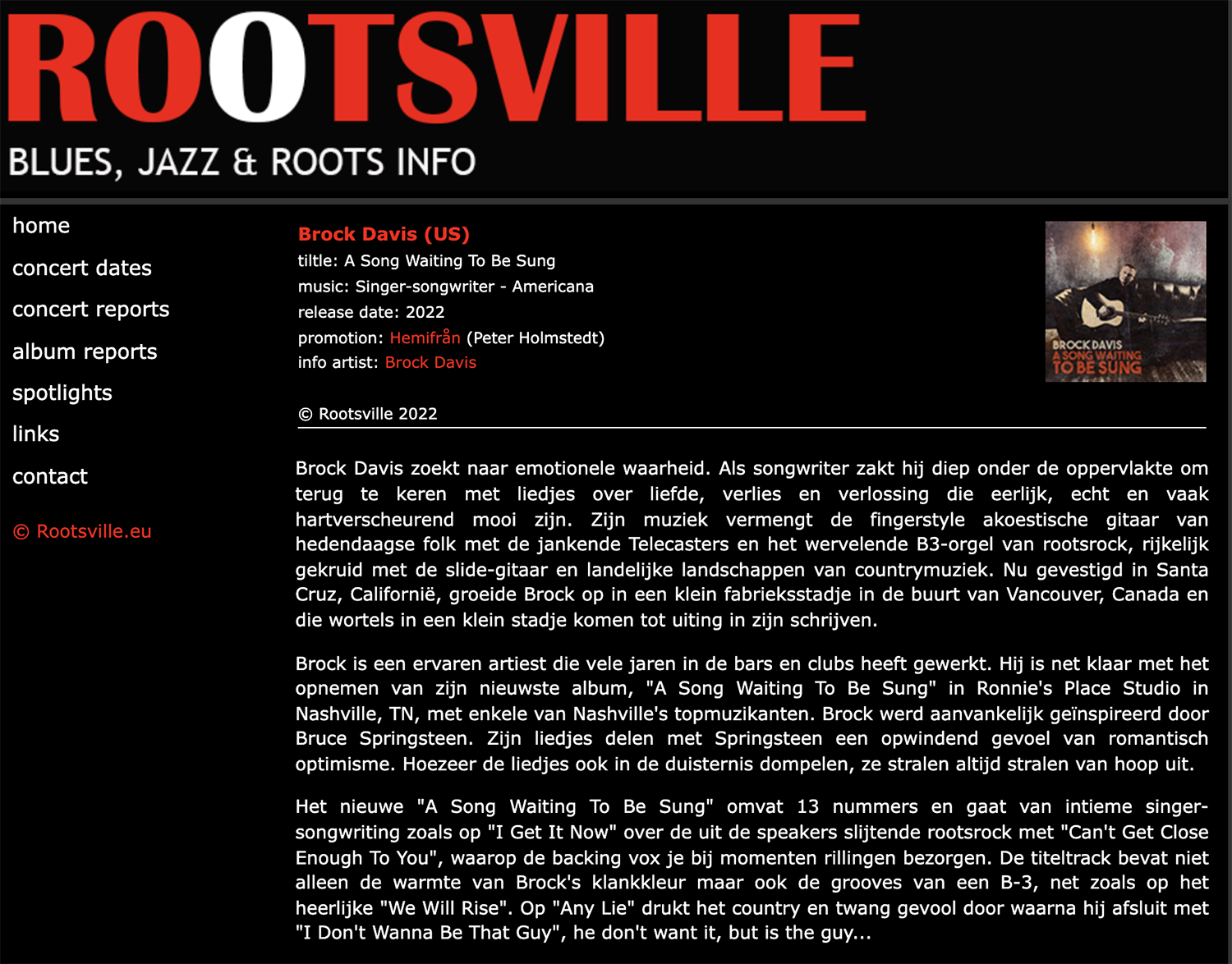 Brock Davis - A Song Waiting To Be Sung (translated from original Dutch)
Brock Davis searches for emotional truth. As a songwriter, he sinks deep below the surface to return with songs about love, loss and redemption that are honest, real and often heartbreakingly beautiful. His music blends the fingerstyle acoustic guitar of contemporary folk with the howling Telecasters and the swirling B3 organ of roots rock, richly spiced up with the slide guitar and rural landscapes of country music. Now based in Santa Cruz, California, Brock grew up in a small mill town near Vancouver, Canada and those small-town roots are reflected in his writing. 
Brock is an accomplished performer who has worked in the bars and clubs for many years. He just finished recording his latest album, "A Song Waiting To Be Sung" at Ronnie's Place Studio in Nashville, TN, featuring some of Nashville's top musicians. Brock was initially inspired by Bruce Springsteen. His songs share with Springsteen an exciting sense of romantic optimism. As much as the songs plunge into darkness, they always radiate a ray of hope. 
The new "A Song Waiting To Be Sung" includes 13 songs and goes from intimate singer songwriting like on "I Get It Now" to the loud roots rock with "Can't Get Close Enough To You", on which the backing vox gives you shivers at times. The title track not only contains the warmth of Brock's voice but also the grooves of a B-3, just like on the wonderful "We Will Rise". On "Any Lie" the country and twang push through and he closes with "I Don't Wanna Be That Guy". He don't want it, but is the guy...