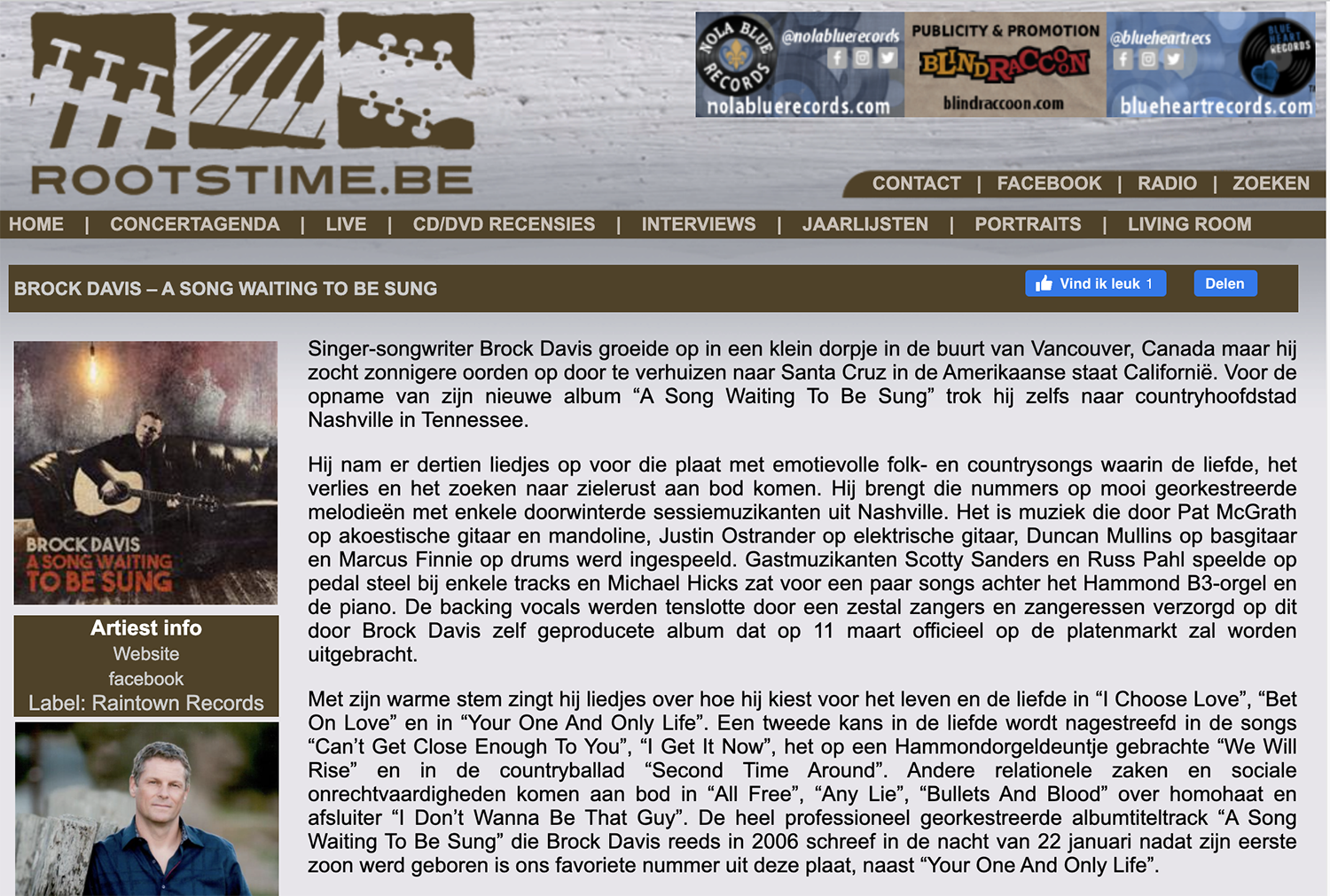 Brock Davis - A Song Waiting To Be Sung (Translated from original Dutch)
Singer-songwriter Brock Davis grew up in a small town near Vancouver, Canada, but he moved to sunnier places when he moved to Santa Cruz, California. For the recording of his new album "A Song Waiting To Be Sung" he even went to the country capital Nashville in Tennessee. He recorded thirteen emotional folk and country songs for that record about love, loss and the search for peace.

He brings those songs to beautifully orchestrated melodies with some seasoned session musicians from Nashville. The music is played by Pat McGrath on acoustic guitar and mandolin, Justin Ostrander on electric guitar, Duncan Mullins on bass guitar and Marcus Finnie on drums. Guest musicians Scotty Sanders and Russ Pahl played pedal steel on some tracks and Michael Hicks sat behind the Hammond B3 organ and piano for a few songs. The backing vocals were provided by six singers on this album, produced by Brock Davis himself, which will be officially released on the record market on March 11th.

With his warm voice he sings songs about how he chooses life and love in "I Choose Love", "Bet On Love" and in "Your One And Only Life". A second chance at love is pursued in the songs "Can't Get Close Enough To You", "I Get It Now", the Hammond organ tune "We Will Rise" and in the country ballad "Second Time Around". Other relational issues and social injustices are discussed in "All Free", "Any Lie", "Bullets And Blood" about homophobia and the closing track "I Don't Wanna Be That Guy". The very professionally orchestrated album title track "A Song Waiting To Be Sung" which Brock Davis wrote back in 2006 on the night of January 22nd after his first son was born is our favorite song from this record, next to "Your One And Only Life".