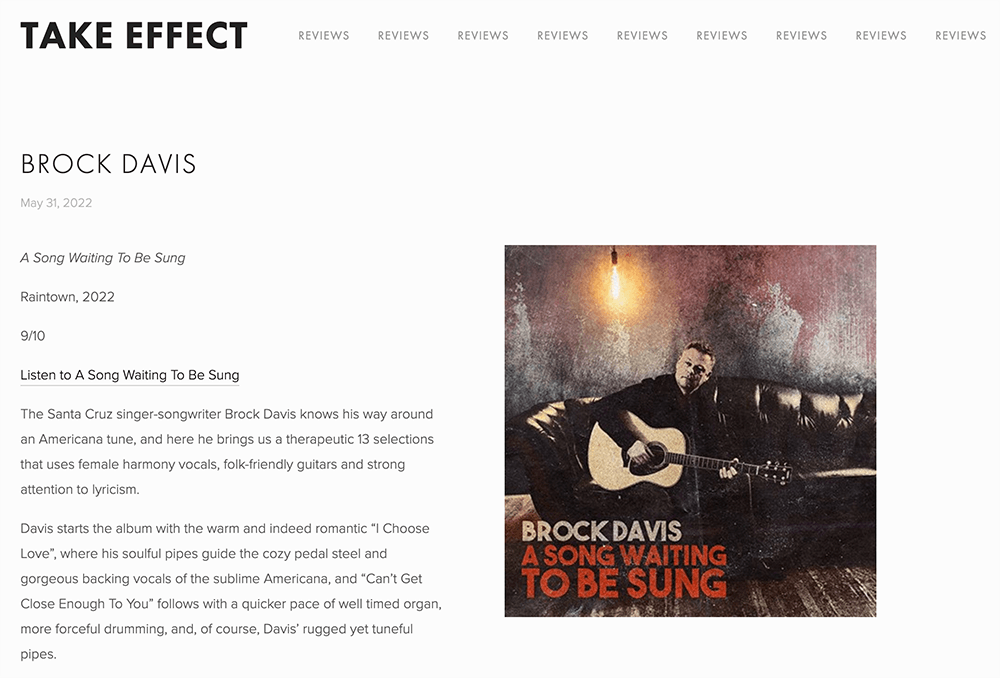 BROCK DAVIS 

A Song Waiting To Be Sung 
Raintown, 2022 

9/10 
The Santa Cruz singer-songwriter Brock Davis knows his way around an Americana tune, and here he brings us a therapeutic 13 selections that uses female harmony vocals, folk-friendly guitars and strong attention to lyricism. 
Davis starts the album with the warm and indeed romantic "I Choose Love", where his soulful pipes guide the cozy pedal steel and gorgeous backing vocals of the sublime Americana, and "Can't Get Close Enough To You" follows with a quicker pace of well timed organ, more forceful drumming, and, of course, Davis' rugged yet tuneful pipes. 
The title track resides in the middle and is quite eloquent amid the thicker, rootsy delivery, while "We Will Rise" emits an almost gospel tone with strategic backing vocals and much power and emotion present and appreciated. 
Close to the end, "Any Lie", the album's best, showcases smooth singing alongside thumping drums and a charming rhythm, and "I Don't Wanna Be That Guy" exits the listen with plenty of breezy melodies in the crisp and highly memorable finish. 
Davis has got a rich set of pipes and his wordplay is both insightful and eloquent. Add in some timeless country, folk and roots moments, and you've got a first rate Americana listen. 
Travels well with: The Twangtown Paramours- Double Down On A Bad Thing; Bruce Cockburn- Greatest Hits (1970-2020)