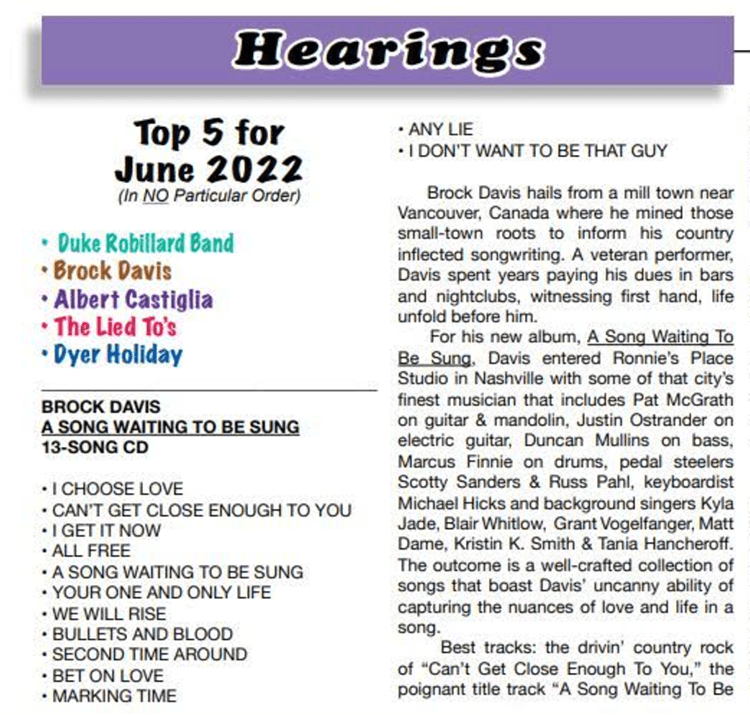 BROCK DAVIS 
A SONG WAITING TO BE SUNG 
13-SONG CD 
Brock Davis hails from a mill town near Vancouver, Canada where he mined those small-town roots to inform his country inflected songwriting. A veteran performer, Davis spent years paying his dues in bars and nightclubs, witnessing first hand, life unfold before him. 
For his new album, A Song Waiting To Be Sung, Davis entered Ronnie's Place Studio in Nashville with some of that city's finest musicians that includes Pat McGrath on guitar and mandolin, Justin Ostrander on electric guitar, Duncan Mullins on bass, Marcus Finnie on drums, pedal steelers Scotty Sanders & Russ Paul, keyboardist Michael Hicks and background singers Kyla Jade, Blair Whitlow, Grant Vogelfanger, Matt Dame, Kristin K. Smith & Tania Hancheroff. The outcome is a well-crafted collection of songs that boast Davis' uncanny ability of capturing the nuances of love and life in a song. 
Best tracks: the driving' country rock of "Can't Get Close Enough To You", the poignant title track "A Song Waiting To Be Sung", the optimistic swagger of "We Will Rise", the revelatory "Bullets and Blood", the sweetly penned, Gordon Lightfoot infused "Second Time Around", and the beautifully orchestrated "Bet On Love". 
- Brian M. Owens