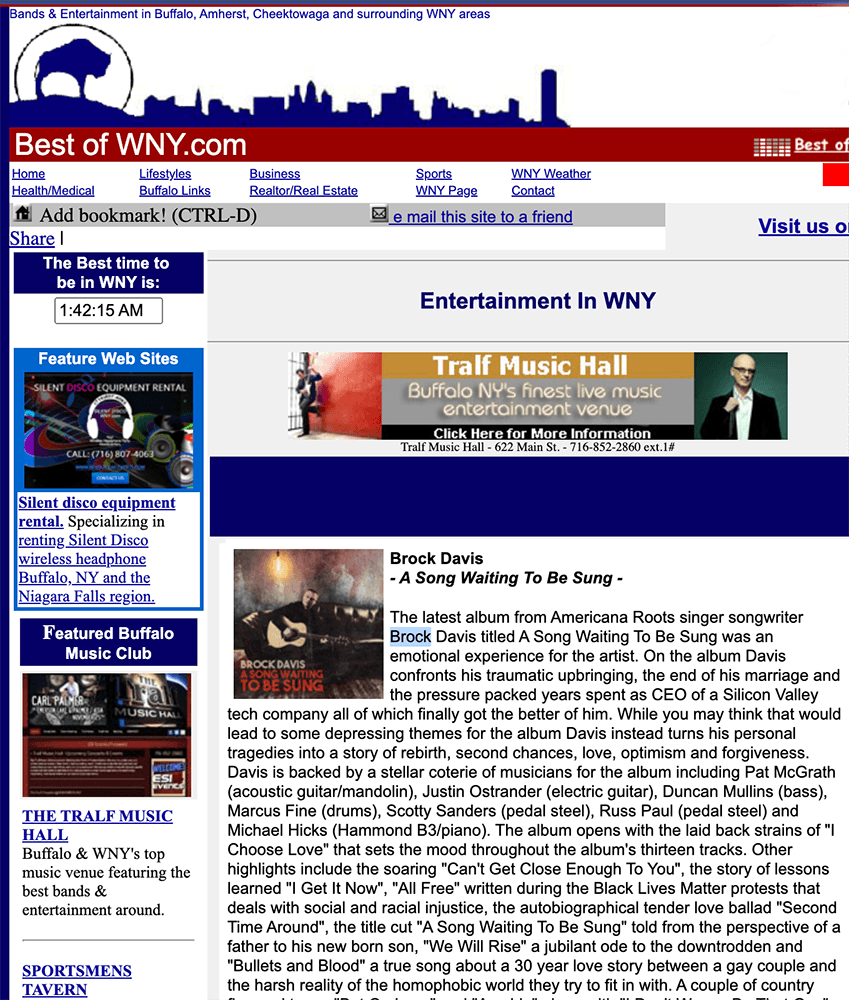 Brock Davis 
- A Song Waiting To Be Sung - 
The latest album from Americana Roots singer songwriter Brock Davis titled A Song Waiting To Be Sung was an emotional experience for the artist. On the album Davis confronts his traumatic upbringing, the end of his marriage and the pressure packed years spent as CEO of a Silicon Valley tech company all of which finally got the better of him. While you may think that would lead to some depressing themes for the album Davis instead turns his personal tragedies into a story of rebirth, second chances, love, optimism and forgiveness. 
Davis is backed by a stellar coterie of musicians for the album including Pat McGrath (acoustic guitar/mandolin), Justin Ostrander (electric guitar), Duncan Mullins (bass), Marcus Fine (drums), Scotty Sanders (pedal steel), Russ Paul (pedal steel) and Michael Hicks (Hammond B3/piano). The album opens with the laid back strains of "I Choose Love" that sets the mood throughout the album's thirteen tracks. Other highlights include the soaring "Can't Get Close Enough To You", the story of lessons learned "I Get It Now", "All Free" written during the Black Lives Matter protests that deals with social and racial injustice, the autobiographical tender love ballad "Second Time Around", the title cut "A Song Waiting To Be Sung" told from the perspective of a father to his new born son, "We Will Rise" a jubilant ode to the downtrodden and "Bullets and Blood" a true song about a 30 year love story between a gay couple and the harsh reality of the homophobic world they try to fit in with. A couple of country flavored tunes "Bet On Love" and "Any Lie" along with "I Don't Wanna Be That Guy" a wistful tale of love (and a Rom-Com in a song) stand out as well. 
After some trying times in his life it's great to see that Brock Davis has come out on the better side of things on his latest album A Song Waiting To Be Sung. For more information about Brock Davis you can go to www.brockdavismusic.com or visit www.facebook.com/brock.davis.band 
- Bob Silvestri