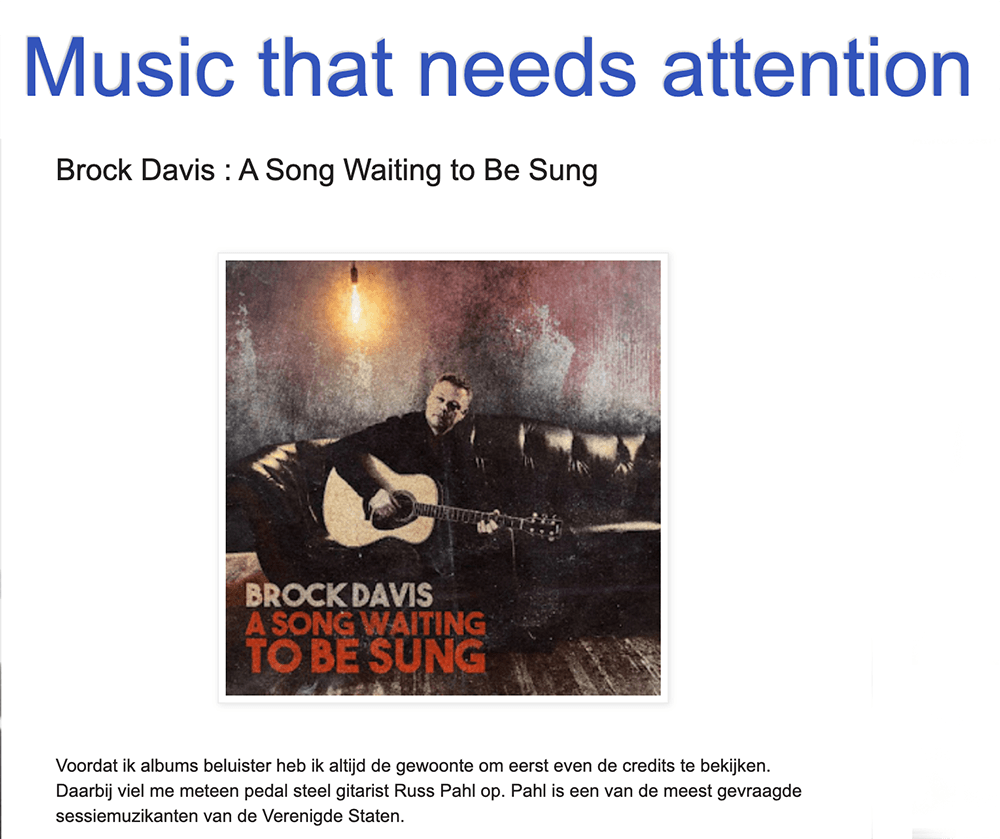 Brock Davis: A Song Waiting To Be Sung 
Before I listen to albums I always have the habit of checking the credits first. I immediately noticed pedal steel guitarist Russ Pahl. Pahl is one of the most in-demand session musicians in the United States. 
Initially, Pahl was to play on the entire album A Song Waiting to Be Sung, but due to the Corona pandemic, was limited to just the title song and Bullets and Blood. But the other pedal steel guitarist, Scotty Sanders, is also a very experienced session musician. Brock Davis appears to be surrounded by excellent accompanists. 
Brock grew up in a small town near Vancouver, Canada. Today, he splits his time between Santa Cruz, California and Nashville, Tennessee. Brock started his professional music career in his teens, started performing a lot and making albums that could count on the necessary critical acclaim. He then temporarily turned his back on music to start a family and spent time in Silicon Valley in a heavy position. 
Now Brock is back with A Song Waiting to Be Sung, a purifying collection of Americana and Indie country songs. Songs in which, among other things, a childhood trauma, an untenable marriage and his experiences in Silicon Valley are discussed. According to Brock, it has ultimately become a triumphant statement of second chances, love, unity and forgiveness. 
I prefer to hear Brock in the more soulful songs and in songs where you can sing along to the choruses right away, like All Free, one of my favorites. In addition to the necessary uptempo songs, there is also a moment of tranquility here and there, such as Your One and Only Life. 
The songs took some time to fully sink in with me. Brock produced the album himself in an excellent manner. In an honest way, Brock on A Song Waiting to Be Sung mainly cleans up the problems that gnawed at him. 
- Theo Volk