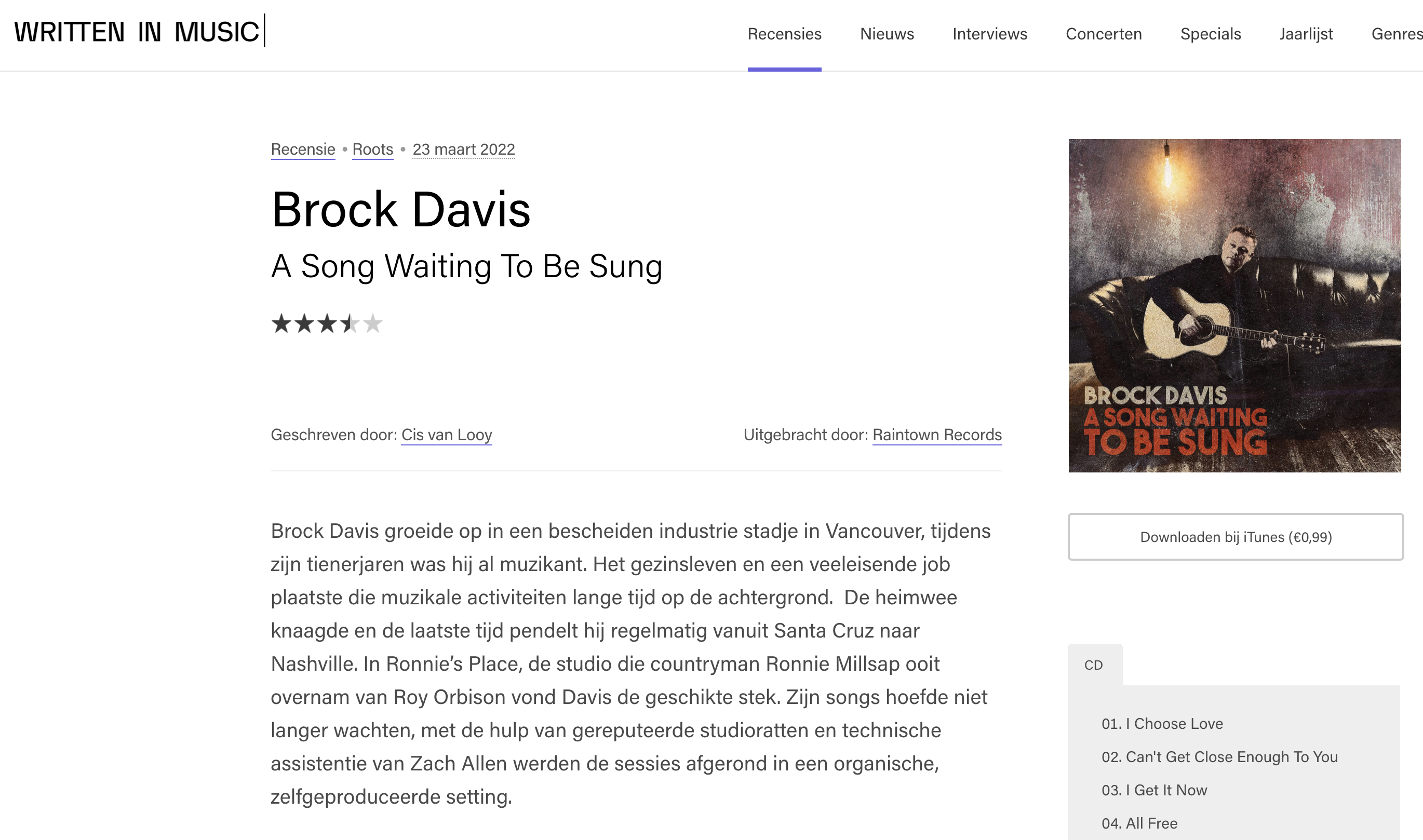 Brock Davis - A Song Waiting To Be Sung (translated from original Dutch)
Brock Davis grew up in a modest industrial town near Vancouver, having been a musician for many years. Family life and a demanding job put those musical activities in the background for a long time. The longing gnawed at him and so now he regularly commutes from Santa Cruz to Nashville. In Ronnie's Place, the studio that countryman Ronnie Millsap once took over from Roy Orbison, Davis found the right place. His songs didn't have to wait any longer, with the help of reputed studio musicians and audio engineering from Zach Allen, the sessions were completed in an organic, self-produced setting. 
Thirteen songs that are mainly inspired by Davis' experiences, the difficult moments are not ignored, such as the opener I Choose Love in which the aftermath of a divorce is described, a tender song with solitary slide and subtle background vocals. Sensitive country folk that contrasts sharply with the solid roots rock of Can't Get Close Enough To You and the tight rocking with lap steel electrifying We Will Rise, it is not the only song that radiates optimism from a dark starting perspective. 
The gospel-tinged All Free was created as a result of the Black Lives Matters protest, Bullets and Blood and the I Don't Wanna Be That Guy, based on twanging guitar and pedal steel, are also situated in a broader, socially engaged context. On a first listen, the opening track quoted earlier and above all the title song remain. "These old hands have played a song or two, I look at yours and I wonder what they'll do, my simple dream is lying in my arms, a tiny son". A Song Waiting To Be Sung is a heartfelt ode from a young proud father. A deadly honest approach that often resounds in the excellent song work of Brock Davis. 
- Cis van Looy