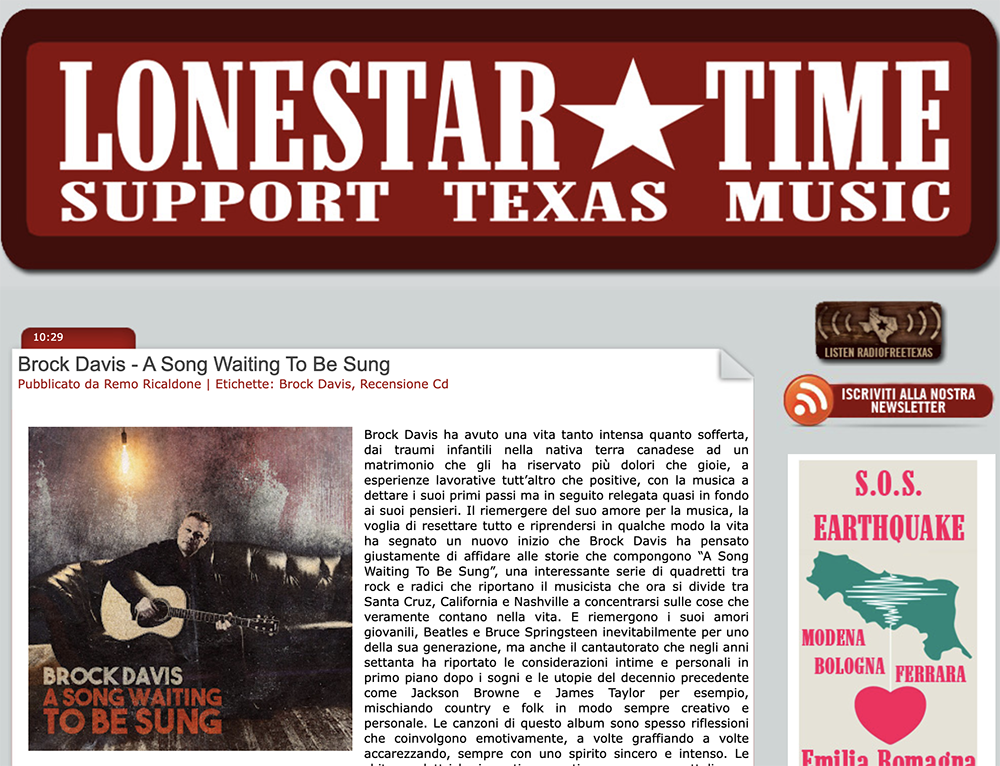 Brock Davis - A Song Waiting To Be Sung (translated from original Italian)
Brock Davis has had an intense life, from childhood traumas in his native Canadian land to a marriage that caused more pain than joy, to work experiences that were anything but positive, with music being his first love but subsequently relegated almost to the bottom of his thoughts. 
The re-emergence of his love for music, the desire to reset everything and somehow recover life marked a new beginning that Brock Davis rightly thought of as inspiration for the stories that make up "A Song Waiting To Be Sung", an interesting series of vignettes between rock and roots that brings the musician, who now divides his time between Santa Cruz, California and Nashville, back to focus on the things that really matter in life. 
And his youthful loves re-emerge, Beatles and Bruce Springsteen inevitably for one of his generation, but also the songwriters who in the seventies brought intimate and personal considerations back to the fore after the dreams and utopias of the previous decade such as Jackson Browne and James Taylor for example, mixing country and folk in a creative and personal way. 
The songs on this album are often reflections that involve deep emotions, sometimes raw, sometimes gentle, always with a sincere and intense spirit. Electric guitars at certain moments emerge to underline the deepest feelings but there are many songs that showcase poetic reflections and excellent workmanship, inevitably taking up the lesson of Dylan but not forgetting the most relevant facts of the society in which we live. 
From the cry between rock and gospel of "All Free" inspired by the Black Lives Matter movement to the intense title-track "A Song Waiting To Be Sung" with all its expressive urgency, from the rock of "Can't Get Close Enough To You to the intensely personal country songwriting of "Second Time Around" and "Bet On Love", everything contributes to drawing a picture of good value that deserves to be known and appreciated. Nothing revolutionary, but here is the strength of an authentic artist who is not afraid to get naked. 
- Remo Ricaldone