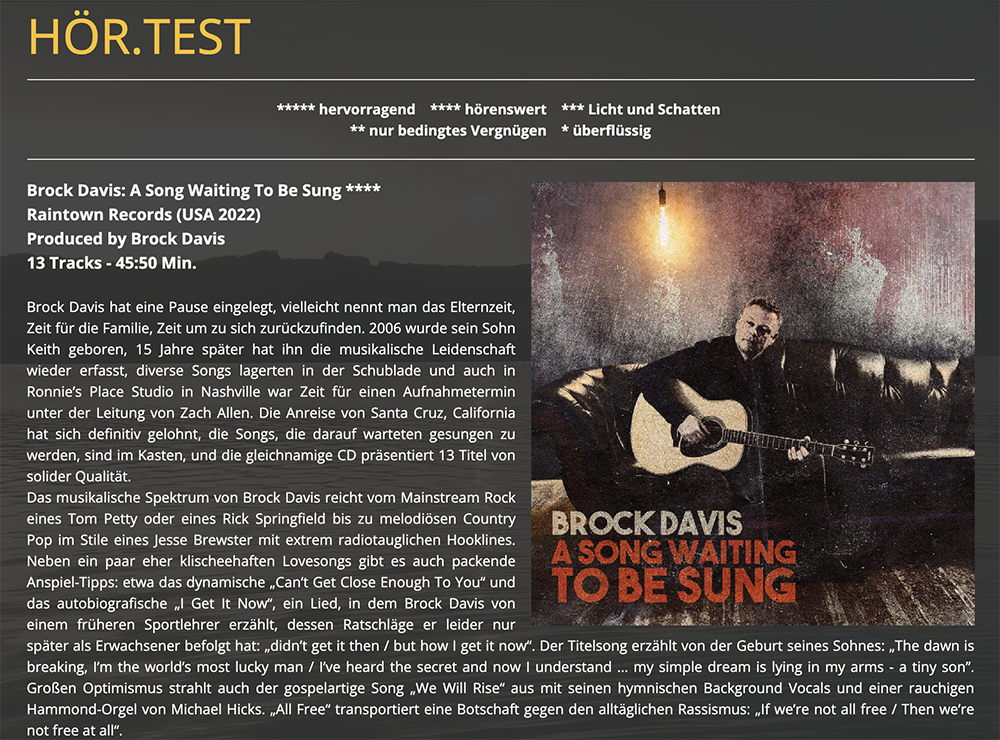 Brock Davis: A Song Waiting To Be Sung ****  (translated from original German)
Raintown Records (US 2022) 
Produced by Brock Davis 
13 tracks - 45:50 mins 
Brock Davis has taken a break, maybe that's called paternity leave, time for the family, time to find yourself again. His son Keith was born in 2006, and 15 years later his musical passion gripped him again, various songs were stored in the drawer and there was also time for a recording session in Ronnie's Place Studio in Nashville with audio engineering by Zach Allen. The journey from Santa Cruz, California was definitely worth it, the songs waiting to be sung are in the can, and the CD of the same name presents 13 tracks of solid quality. 
Brock Davis' musical spectrum ranges from mainstream rock like Tom Petty or Rick Springfield to melodic country pop in the style of Jesse Brewster with extremely radio-friendly hooks. In addition to a few more clichéd love songs, there are also gripping tracks such as the dynamic "Can't Get Close Enough To You" and the autobiographical "I Get It Now", a song in which Brock Davis talks about a former coach, whose advice he unfortunately only followed later as an adult: "I didn't get it then / oh but how - I get it now". The title song tells of the birth of his son: "The dawn is breaking, I'm the world's most lucky man / I've heard the secret and now I understand ... my simple dream is lying in my arms - a tiny son". The gospel-like song "We Will Rise" also exudes great optimism with its anthemic background vocals and a smoky Hammond organ by Michael Hicks. "All Free" conveys a message against everyday racism: "If we're not all free / Then we're not free at all". 
All in all, this CD is also a kind of self-medication by the musician Brock Davis, a way out of various life crises and a new start - "Second Time Around". Fingers crossed, broad attention would be deserved.
- Wolfgang Reitzammer