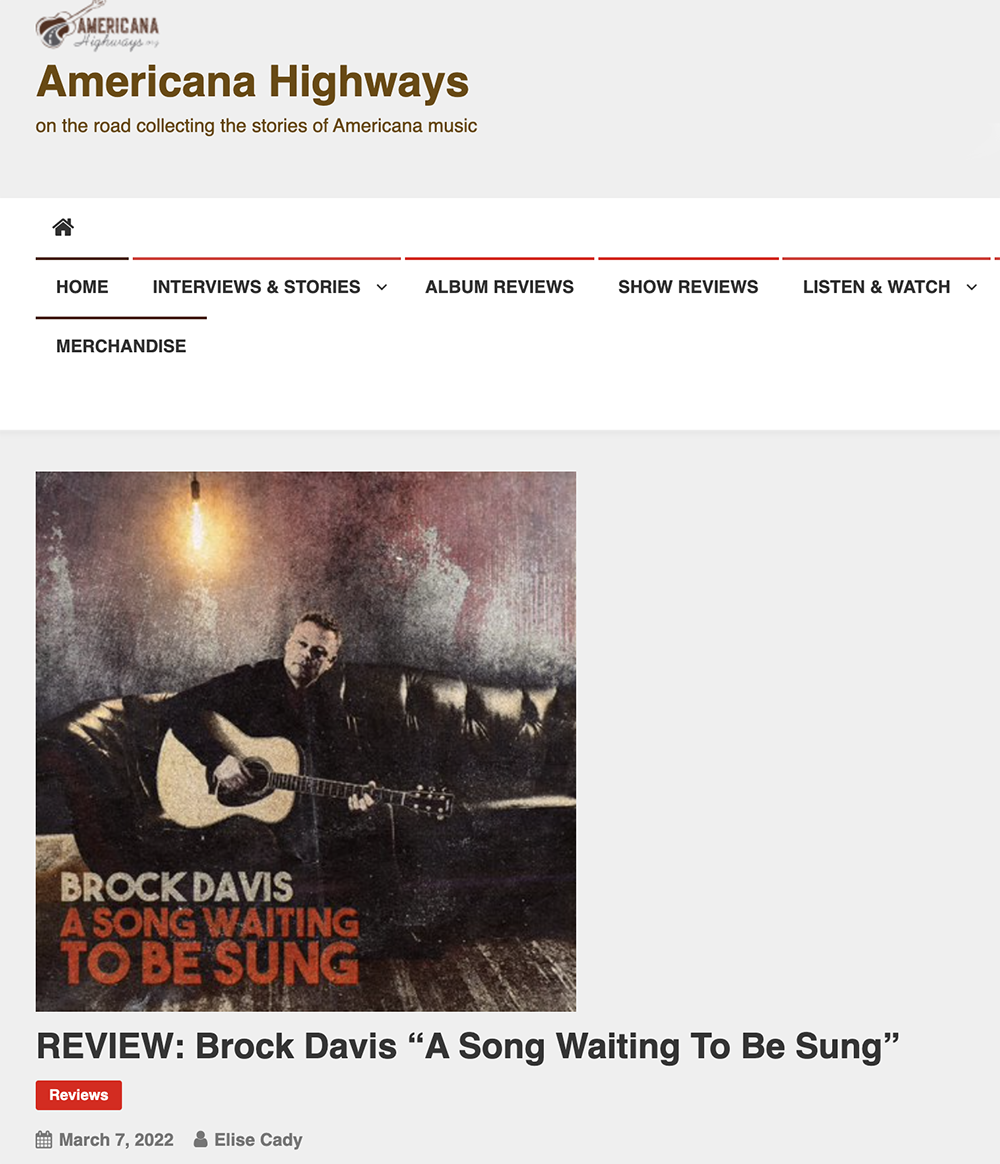 Brock Davis has a new album out, A Song Waiting to Be Sung, released on Rainwater Records. A Song Waiting To Be Sung was recorded and mixed in Nashville by Grammy Award-winning engineer Zach Allen (Keb' Mo', Christone "Kingfish" Ingram) at "Ronnie's Place" in Nashville.  The album was produced by Brock, with an emphasis on crisp modern fidelity. 
A Song Waiting to Be Sung is Marcus Finnie on drums; Duncan Mullins on bass; Pat McGrath on acoustic guitar and mandolin; Justin Ostrander (Lori McKenna) on electric guitar; Scotty Sanders and Russ Pahl (Yola) on pedal and lap steel;  Michael Hicks on B3 Organ and piano; Brock Davis on vocals. 
Backing vocals are courtesy of Kyla Jade, Blair Whitlow, Tania Hancheroff, Kristin K. Smith, Matt Dame, and Grant Vogelfanger. 
"Choose Love" is a mournful song, opening the album with a showcase of Brock Davis' richly textured vocals.  "Every step that we take, takes us farther away, we can give in to hate but it's a steep price to pay."  This is clearly about more than just one relationship. 
"Can't Get Close Enough to You" turns the page to a more optimistic outlook with a cheerful rhythms. "I Get it Now" is a country song, with soaring energy and far more lyrical depth than your average fare, a tear-jerker with nostalgia. "I was shooting hoops with my boy last night in the driveway." 
"All Free" folds in southern rock guitar with a hint of pedal steel in an earnest, declarative song on humanity and fairness. The vocal harmonies here are chilling.  "Second Time Around" is a gentle acoustic number with mandolin and understated lyrics in a song about the perfect second chance. 
This is a quality country album, with thoughtful emotion, compelling vocals, and vibrant harmonies. The songwriting intends to make you cry just a little, and smile a little bit more.

- Elise Cady