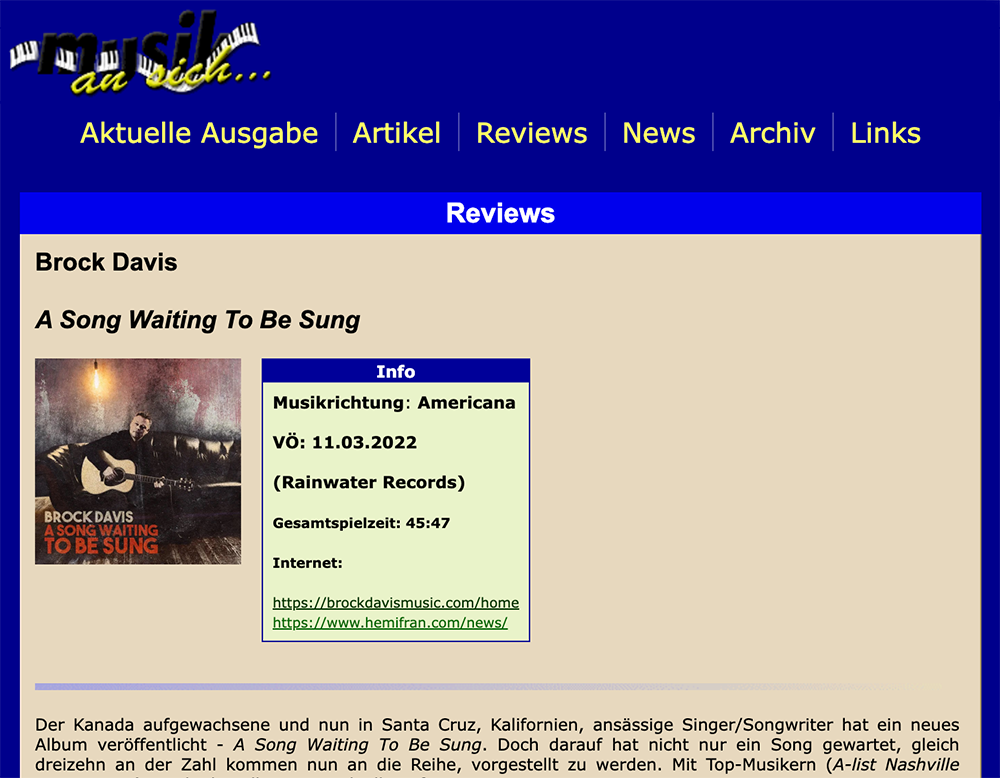 Brock Davis - A Song Waiting To Be Sung
The Canadian-raised singer/songwriter, now based in Santa Cruz, California, has released a new album - A Song Waiting To Be Sung. But not only has one song has been waiting, thirteen songs now have their chance to be presented. The album was recorded in Nashville with top musicians (A-list Nashville session cats). 
Obviously some autobiographical elements have flowed into the lyrics, Davis wrote about the record: Out of the ashes comes rebirth, and out of pain and loss, against all odds, comes love.. The direction should therefore be quite optimistic. Well, he also chose love, as the first song immediately says: "I Choose Love". Here I notice this beautiful atmosphere, which, accompanied by a slight melancholy, immediately draws my mind to my colleague John Gorka. But a touch of Marc Cohn also seems to resonate. 
"I Can't Get Close Enough To You", they get closer with the second song. This one contains more rock elements, roots rock. One of the ladies from the throng of background vocalists pushes her vocals to the fore, and from 2:37 she is passionately in the limelight. They seem to have gotten closer... 
And so the tempi and the moods change over the course of the record, everything can be classified well in the Americana genre. Harmony is something that is very defining in the composition of the songs, every now and then a little touch of country suits them well, like the pedal steel on "I Get It Now". As can be read, the protagonist is said to have been inspired by Bruce Springsteen. A Song Waiting To Be Sung mostly runs in calm waters. Clearly structured songs, classic structure, classic rock paired with different elements, with folk, with country and sometimes a little touch of gospel. 
But I also think of of Bob Dylan when I listen to the title track. I also particularly like the ballad "Second Time Around", quite spartan, decorated with acoustic guitar and mandolin, both played by "First-Call Nashville Session Player", Pat McGrath. In general, the musicians make a decisive contribution to creating this high level of the songs. And Brock Davis puts his pleasantly warm and sympathetic sounding voice over it, creating a pleasant unity.
- Wolfgang Giese